Hundreds of thousands of graduates enter the workforce every year. Even though these graduates all have college degrees, many are left without jobs.
Those left without jobs naturally resort to what society has led them to believe is the right way to land a job.
Fill out a cookie cutter resume (the one that looks the same as all the other applicants in a Word Doc)
Blast it out to anyone willing to hire you (even companies that are a stretch)
Hope you get picked up by someone
This approach is working less and less every year.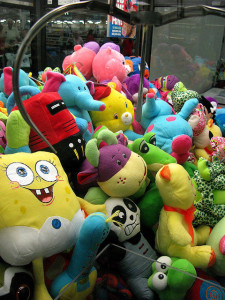 We see it everyday before our eyes. There's no denying it!
This "old school" approach reminds me of the Stuffed Animal Crane Game for kids.
I relate the game to finding quality work and getting hired though.
Lots of animals (workers) look at the crane (the employer) waiting to get picked up (hired). Most end up sitting at the bottom of the glass box without a home (unemployed) hoping the next contestant (employer) picks them up.
I'm not doubting or debating that individuals don't acquire jobs the old way. I just want to give you an alternative that gives you an advantage over other applicants.
An alternative that can help you get in with a company that you want to work for.
It's the idea of free work. Charlie Hoehn created/coined the term a few years ago.
"The idea of free work is simple"
Lets say you want to work for XYZ company.
Instead of sending them your resume hoping it will get picked from the pile, you take a different approach.
What to do (in short):
Look at what work/projects you may want to do for XYZ company and then send them a short proposal.
Proposal:
Dear XYZ Company, I noticed that you are looking to bring someone on to handle upcoming marketing projects. Your company beliefs align with mine and I think I can bring a lot of value to the table. My proposal is to work for you for free on a 14-day trail basis to prove my value to your company. Then, if you like the work I'm doing and I get results, we can discuss further work to possibly be done on a more permanent paid basis.
---
The reason this approach works is because there is no risk to the company. If you don't perform, they can say "adios."
IF you do great work though, you've just positioned yourself perfectly for further work & a possible job.
The idea of "free work" is to prove your value to a company and get in with a much different approach, while gaining valuable experience in the process.
I've used the free work approach to acquire a few marketing projects in the past, and it worked well. Once the business saw the quality of work I could provide for them, they trusted me to take on larger projects.
If I simply sent them my resume with salary requirements, I may not have received the opportunity to do any work for them at all.
By taking the free work approach, I stood out and they happily let me prove my skills (without any risk to them).
Whether you want to do project work for a business or you want your work to lead to full time hire, the free work approach may be a great option for you.
There's nothing to lose.
Feel free to e-mail me to let me know how the approach worked for you or if you have any questions. -Ryan Malinowski